Welcome to Temiskaming Nordic
Temiskaming Nordic is The Place To Ski and has earned a reputation for delivering one of the finest cross-country skiing experiences within Ontario. There are many reasons to ski at Temiskaming Nordic: awesome trails through beautiful forested landscape, early and late season skiing, great people, a welcoming chalet, youth programs, racing and social events.
We offer 20 km of well-marked, groomed and track-set skate and classic ski trails. The three beautiful trails offer varying levels of difficulty and length, making them enjoyable for beginner, intermediate and advanced level skiers. The combination of rolling esker terrain, unique trail system design and first-rate grooming makes the Temiskaming Nordic skiing experience one to remember and one to be repeated!
Temiskaming Nordic has grown over the last 25 years into an accomplished cross-country ski facility featuring a large heated log chalet with indoor washrooms, kitchen, waxing area and change rooms. Club membership is now near 385 individuals and families. We offer full season memberships as well as day-passes and ski rentals at very affordable, family-friendly rates.
We are centrally located in Ontario and easily accessible in often less than a few hours of driving from major centres.
---
NEWS
---
We're Looking for Two Volunteer Directors
Chalet Director
To oversee the maintenance and day to day use of the clubs buildings including:
Organizing opening and closing of chalet
Organizing the chalet cleanup day
Firewood
Snow removal
Organizing seasonal repairs and painting
Race Director
Organize Loppet, Family Sprint and Race events.
It is important to note that each position can be shared (2 persons).
For the above noted positons, please contact haileybury.walkers@hotmail.com to inquire further. If you are interested in helping out in any areas, please see us at the club, email us at temiskamingnordicskiclub@gmail.com or contact us by telephone at the Chalet 705-679-5106.
---
Opening Day & Ski Swap: November 30th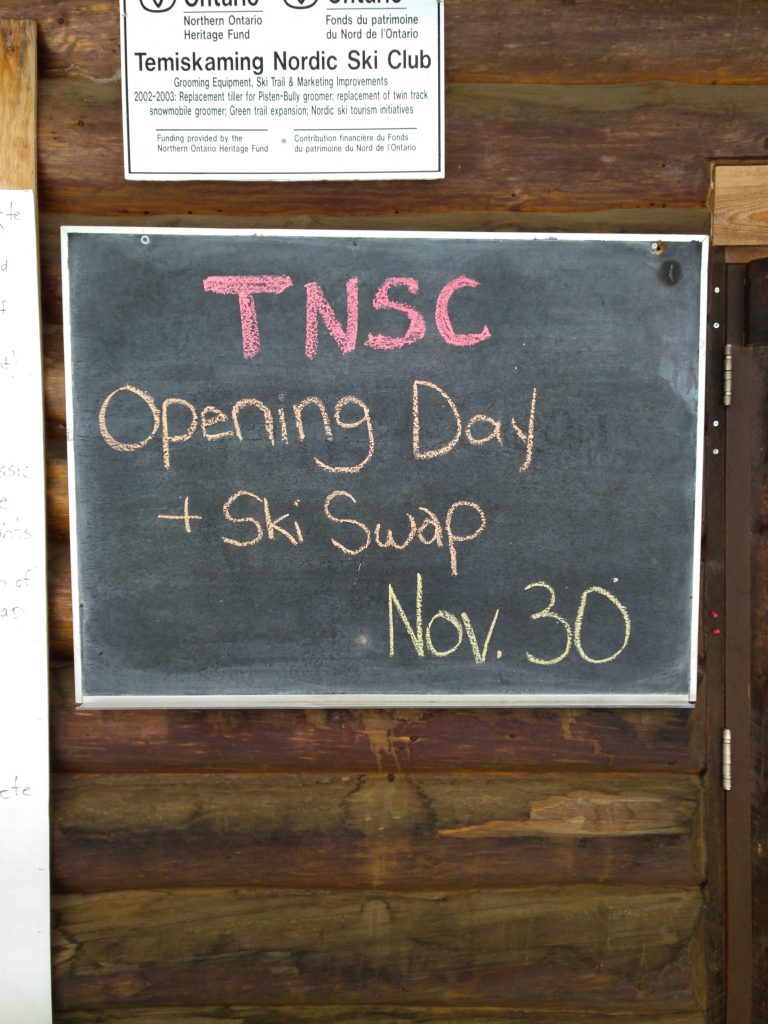 12:00 pm – 3:00 pm
Temiskaming Nordic Ski Club
Portage Bay Road
Come out and celebrate our opening day!
Ski and equipment swap
Latest Technology – liquid wax demonstration at 1:00 pm
TNSC swag available for purchase
Free day-pass and equipment rental for new skiers
Complimentary hot beverage and sweet treat
Got ski equipment for the swap? Fill out this form and bring it along.
Register Online Now-Ski, Snowshoe, Youth Programs!
See Youth Programs-Information and Registration for help registering for Bunny Rabbit, Jackrabbit and Track Attack programs.
Online registration for Nordic memberships continues; the process is safe, secure and easy to do anywhere.
Select Ski Membership or Snowshoe Membership from the "Membership and Rates Dropdown Menu" at the top of the page.
For more information visit us on Facebook or
Email: temiskamingnordicskiclub@gmail.com
Upcoming Events
November 30 – Last day of early bird registration
November 30 – Open House and Ski Swap
January 1 – New Year's Day Brunch
January 4 – First Day of Jackrabbit
January 19 – World Snow Day
February 17 – Family Day
February 29 – Jackrabbit Olympics
March 16-20 – March Break
March 21 – Family Sprint Relays
March 22 – Loppet
March 28 – Challenge Ski
April 12 – Closing Day
April 17 – Year-end Banquet and Awards
May 13 – Annual General Meeting