Latest trail condition updates on Twitter
Welcome to Temiskaming Nordic
Temiskaming Nordic is The Place To Ski and has earned a reputation for delivering one of the finest cross-country skiing experiences within Ontario. There are many reasons to ski at Temiskaming Nordic: awesome trails through beautiful forested landscape, early and late season skiing, great people, a welcoming chalet, youth programs, racing and social events.
We offer 20 km of well-marked, groomed and track-set skate and classic ski trails. The three beautiful trails offer varying levels of difficulty and length, making them enjoyable for beginner, intermediate and advanced level skiers. The combination of rolling esker terrain, unique trail system design and first-rate grooming makes the Temiskaming Nordic skiing experience one to remember and one to be repeated!
Temiskaming Nordic has grown over the last 25 years into an accomplished cross-country ski facility featuring a large heated log chalet with indoor washrooms, kitchen, waxing area and change rooms. Club membership is now near 385 individuals and families. We offer full season memberships as well as day-passes and ski rentals at very affordable, family-friendly rates.
We are centrally located in Ontario and easily accessible in often less than a few hours of driving from major centres.
---
NEWS
End of 2020 Season
Dear Members,
After getting fresh snow on Thursday, and with the trails freshly groomed on Friday, the conditions were fantastic on Saturday. It was great to see so many people come out to get in a great day of skiing. At one point, we had 19 cars in the parking lot. Thank you to the groomers for making this day possible.
Regrettably, with milder weather in the forecast, we will no longer be grooming the trails. As previously advised, the Year End Banquet is cancelled and we will provide a further update at a later date regarding our Annual General Meeting (AGM), which is currently scheduled for May 13th.
Despite this health crises and issues with our groomer, we had another long season and the Executive would like to take this opportunity to extend our sincere appreciation to all our volunteers for their hard work and dedication to our club.
Stay safe and be well.
Temiskaming Nordic Ski Club (TNSC) Executive
---
March 24, 2020 – Update From TNSC Executive
Further to our previous updates, we wish to confirm that our Annual Banquet scheduled for April 17th has been cancelled. We will provide a further update regarding our AGM which is currently scheduled for May 13th.
During this important time of social distancing, we recognize the benefits of outdoor activity. Our volunteers will continue to groom the trails as conditions permit (new snow/temperature etc), however, the chalet will remain closed. Luckily, snow is in the forecast for Thursday.
Further, we wish to remind everyone that dogs are not permitted on the ski and snowshoe trails, with the exception of service dogs.
Lastly, in the interest of public safety, we ask that you practice social distancing at all times while using the trails.
Happy Skiing and stay well.
---
Important Message From TNSC Executive
In response to the Covid-19 crisis, the executive has decided to close the chalet for the season. While we will continue to groom as weather conditions permit, ski equipment rental is not permitted.
Sprints, Loppet and Ski Challenge are all cancelled.
At this time, the Year End Banquet is not cancelled.  That said, it is unlikely to be held given the social distancing recommendations.
We thank everyone for your patience and understanding.
---
Half Price March Break for Students!
For March Break (Monday to Friday), all trail fees for students are half price – $4.50 for students to ski and $1.50 for students to snowshoe. Rental equipment remains full price.
---
We're Looking for Two Volunteer Directors
Chalet Director
To oversee the maintenance and day to day use of the clubs buildings including:
Organizing opening and closing of chalet
Organizing the chalet cleanup day
Firewood
Snow removal
Organizing seasonal repairs and painting
Race Director
Organize Loppet, Family Sprint and Race events.
It is important to note that each position can be shared (2 persons).
For the above noted positons, please contact haileybury.walkers@hotmail.com to inquire further. If you are interested in helping out in any areas, please see us at the club, email us at temiskamingnordicskiclub@gmail.com or contact us by telephone at the Chalet 705-679-5106.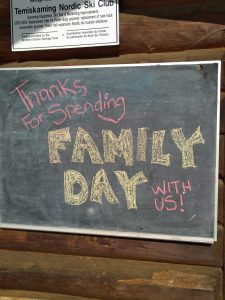 Upcoming Events
May 13 – Annual General Meeting
---
---