Our Trail System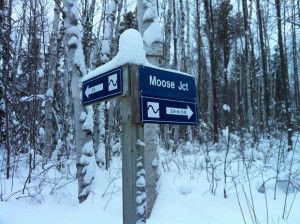 Temiskaming Nordic offers 20km of well-groomed and marked classic and skate trails. The three trail systems offer different levels of difficulty and length, making them enjoyable to skiers of any ability. We invite you to read on to understand how the combination of terrain, trail system design and grooming combine to create the Temiskaming Nordic skiing experience difference.
We offer early and late-season skiing. The club is located on ancient forested sand dunes, providing a sandy trail base on rolling terrain. This allows skiing with little snow cover. For those using waxable skis, our moderate northern climate and frequent fresh snow results in skiing here most of the season on blue and green glide wax.
All trails are well marked with signs at each trail intersection and "easy out" shortcuts, indicating the direction and distance back to the chalet.
Overall Trail Layout & Design
Unlike most trail systems in Ontario, the Temiskaming Nordic trail system was designed from a blank page when the founding members decided to change location and start fresh in a totally virgin area. The trail designers wanted to address three elements: make the best use of the incredible terrain to showcase the natural features of the landscape;
design a trail system and facilities capable of hosting provincial and national ski competitions; and incorporate skate as well as classic skiing techniques on trails that flow and provide fun and challenge for skiers of all ages and abilities. Care was taken in the design and construction of the trails to protect the integrity of the fragile sand dunes.
The design incorporated the key elements essential to being able to host racing events including a stadium area and a natural amphitheater near the chalet that provides great views for parents, coaches and spectators. Significant race events have been held at Temiskaming Nordic in past years, including the 1995 Ontario Championships. The largest race event held was the 2000 Ontario Championships and Canadian Masters when over 320 skiers from across Canada took part. In 2014 and again in 2015, Temiskaming Nordic hosted the Ontario Midget Championships.