Temiskaming Nordic is simply one of the best cross-country skiing clubs in the province. We are centrally located and easily accessible in often less than a few hours of driving.
Great People – Awesome Trails – Early and Late Season Skiing – Everything You Need – Safe – Affordable & Healthy – Great Events
What a few of our visitors have said:

"Super trails, the red and blue are terrific. This place is a gem. Thank you all."
John Good, High Park Ski Club

"Wonderful & beautiful lodge. Great trails."
Donna Gill, Toronto, Ontario

"Awesome trails and friendly people."
Sheron Kalechstein, Deep River, Ontario
———————————
Great People
Temiskaming Nordic is a not-for-profit organization that is run by volunteers. This great community-driven club has approximately 385 members, plus many non-member users. You will meet great people.
Awesome Trails
Over 18 kilometres of groomed trails. Beginner and experienced skiers can choose trails for classic or skate skiing. Our trail network, its design and the grooming quality are among the best in the province. For recreational skiers and nature-lovers, it's beautiful, natural and peaceful. For people looking for a bit more excitement, skate skiing adds a speed dimension that extends the appeal of the sport.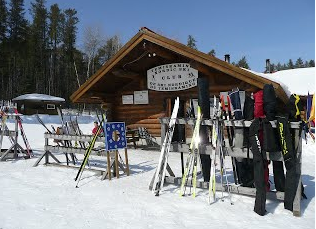 Early and Late-Season Skiing
The club is located on forested sand dunes, providing a sandy trail base on rolling terrain. Most years that, along with our northern location, also results in us being able to start skiing sooner and continue later in the season than many other facilities.
Everything You Need
If you're new to the sport of cross country skiing, the club has everything you need: a heated chalet open 7 days a week, a kitchen, change rooms, parking… We will also help you to get started with ski rentals, lessons, waxing advice and a lot more.
Safe
The trails are wide and well signed. Trail maps are available. Trails are maintained to ensure your safety and enjoyment. Grooming reports are updated so you know what conditions to expect.
Affordable & Healthy
Cross-country skiing is one of the most affordable sports and one that has many health benefits. It's a great life-time sport, offering something for everyone – families with young children, teenagers, adults of all ages.
Great Events
Throughout the year, you can participate in our ski events and social events.